Download the complete Creating a Culture of Feedback ebook.
We can all agree that annual employee surveys aren't perfect. Results can be skewed, outdated, and impacted by frequent hierarchical changes. It's no surprise then that only 11% of employers survey their employees more than once a year, according to Aon Hewitt, and more than 25% of employers survey every other year or less often.
That being said, asking for employee feedback has not lost its merit. Annual surveys still paint a broad picture of the employee experience at an organization, and more frequent surveys give us insight into the employee lifecycle at all levels, as well as how leadership can more immediately manage engagement, explains Hewitt.
Fostering a "feedback culture" has become such a corporate buzz phrase that it may have lost its luster for many, but its impact should not be underestimated. Think about the last time you purchased something online, or ate at a new restaurant – did you look up reviews first? Did other consumers' feedback impact your purchase? How about the last time you interviewed for a job – did you check out reviews on Glassdoor? Frequent digital feedback is everywhere, and the same should go for our workplace. As Aon points out, this trend has "increased expectations among employees and managers alike, highlighting the limitations of evaluating the employee experience knowing that the next time you will be asked will be in a year."
So, how do we make it easy, enticing, and inexpensive to gather employee feedback often and in a meaningful way? In this ebook, we'd like to highlight a number of simple ideas for polls or surveys your organization can send to employees based on four specific, common organizational challenges we see among organizations of all types and sizes.
Employee Satisfaction and eNPS
It can be tough to tackle a topic as broad and as personal as workplace satisfaction, but using multiple short, straightforward polls can provide quick clarity on how your employee base is feeling. You may be familiar with the key performance indicator NPS, or Net Promoter Score, when it comes to customers rating their experience with your company. NPS can (and should!) be leveraged for the employee experience as well, as an "Employee Net Promoter Score" or eNPS. Poll #1 below, asked in the original 10-point systems, forms the base of eNPS. Best practice is to get this feedback from your employees regularly – just ask the creators of NPS.
Polls to ask your employees:
01. How likely are you to recommend this company as a place to work? (Scale of 1 to 10)
02. How happy are you at work? (Scale of 1 to 10 or 1 to 5)
03. Do you have the resources/tools you need to do your job? (Yes/No)
04. Do you have the opportunity to do what you do best everyday? (Yes/No)
05. Do you have a clear understanding of your career and development? (Yes/No/Not Sure)
These questions are simple, they elicit gut reactions from your employees, and they will paint a clear picture of how your employees feel when they come into work each day. Understanding and knowing your employee satisfaction rates can help you fix problems and ensure employees are enjoying their work before it becomes too late.
Challenge: I don't know if my employees feel appreciated.
Feeling valued and recognized might seem like a very subjective concept, and indeed it is unique to each individual employee, but it has measurable impact on your organization. According to Gallup, only one in three workers in the U.S. strongly agree that they received recognition or praise for doing good work in the past seven days. Beyond that, employees who do not feel adequately recognized are twice as likely to say they'll quit in the next year. As the data illustrates, leaders need to get clued into their employees' desires to be valued if they expect to keep them.

Here are some simple ways to determine whether your most important assets feel appreciated:
01. How frequently do you receive recognition from your direct manager? (Daily/Weekly/Monthly/Quarterly/Less than Quarterly)
02. Are you recognized the way you want to be recognized? (Yes/No/Sometimes)
03. How do you prefer to be recognized? (In group settings/In 1-on-1s/Via email/Other)
04. Does your direct manager care about you as a person? (Yes/No/Not Sure)
05. Do your coworkers care about you as a person? (Yes/No/Not Sure)
06. Do you feel valued at work? (Yes/No/Sometimes)
Some of these survey questions speak directly to feeling appreciated. Others get at some of the missed components like whether or not your team cares about you as a whole person. We need to ask a variety of different questions to get a true picture of how our employees are feeling at work.
The typical annual employee surveys we are all used to are anonymous for many (worthwhile) reasons: managers can't scrutinize individual employee feedback, less of a bias can be cast on results because they are delivered in aggregate, and employees feel free to be honest and open. Anonymity, though, doesn't come without some less-than-perfect consequences, explains Forbes contributor Chris Cancialosi.
For example, there tends to be a lack of follow-up when leaders can't dig deeper into feedback, the results are only relevant for a short period of time (especially when you consider a couple months typically pass between survey administration and released results), and it's more difficult to hold leaders accountable. While the reasons to make a survey anonymous are understandable, the negative impact of being overly cautious can outweigh the productive, transparent discussions that occur when employees openly share their thoughts.
Work has to be done to create a culture where employees feel comfortable speaking up and once that has happened, Cancialosi says, "Removing anonymity allows your employees to become active players in the decision-making process, which can boost their dedication and allow your team to benefit from multiple perspectives." Our recommendation here is simply to think hard about whether or not making questions anonymous will help or hinder the feedback culture you're creating, whether it's the questions highlighted in this ebook or others.
Challenge: I'm worried my employees might quit.
At any given time, about one-third of your employees are contemplating a career move. Similarly, according to PWC, only 33% of workers under the age of 35 say they are in "a committed partnership" with their employer. That should be pretty alarming. Another area you should be polling your employees around is to help you find out A) why your employees might be ready to jump ship and B) how to retain them.

Polls to ask your employees:
01. Do you believe you'll be able to reach your full potential here? (Yes/No/Not Sure)
02. Do you foresee yourself working here one year from now? (Yes/No/Not Sure)
03. Do you see how your work contributes to the larger organization's goals/values/objectives? (Yes/No/Not Sure)
04. Are you paid fairly for the work you do? (Yes/No)
05. Do you believe leadership takes your feedback seriously? (Yes/No/Not Sure)
06. Do you currently feel "burnt out" from work? (Yes/No/Not Sure)
Note that these questions don't simply focus on reasons for resignation but rather an employee's overall feeling about their place in their organization and on their team. These factors have a critical impact on whether an employee will stay or go..
Identifying with Company Culture
Challenge: I don't know if my employees identify with our company culture.
A healthy workplace culture is one of those "you-know-it-when-you-see-it" kind of things. For some employees, culture makes or breaks their experience, and it's important to know if at any given time, your company culture is resonating with your employees. Employees who identify with your company culture are more likely to be engaged and less likely to be contemplating a career move.
Beyond knowing how your employees identify with your culture, you should also poll your employees to help you evaluate your overall workplace culture. You should poll your employees on factors like collaboration, trust, and communication styles that can all impact the health of your company culture.
It's not only about a company's articulated culture (their slogan, their values, etc.), but it's also about how the employee would define their organization's culture, and how they work with their leaders and their teammates. Polls to ask your employees:
01. Do you understand the strategic goals of the broader organization? (Yes/No)
02. What three words would you use to describe our culture? (Open text)
03. Do you believe we live by our organizational/company values? (Yes/No/Sometimes)
04. Do you feel your leaders are transparent? (Yes/No/Not Sure)
05. Do you and your co-workers respect one another? (Yes/No/Not Sure)
06. How much do you agree with following statement: our company works in silos? (Strongly Agree, Agree, Neutral, Disagree, Strongly Disagree)
07. How much do you agree with following statement: I feel trusted to accomplish my job? (Strongly Agree, Agree, Neutral, Disagree, Strongly Disagree)
08. How much do you agree with following statement: Our company is focused on working and winning as a team? (Strongly Agree, Agree, Neutral, Disagree, Strongly Disagree)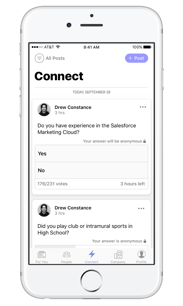 So, how do we make it easy, enticing, and inexpensive to gather employee feedback often and in a meaningful way?
At Structural, we do this through the Poll feature housed in the Connect tab of our platform, and there are many other digital tools out there to make this a painless process as well. Polling is a simple, fast, and effective way to gather data from your people.
At Structural, we leverage polls not only for employee feedback, but also for fun topics like weekend plans and event details.
We would be happy to share more about how Structural can help facilitate a culture of feedback at your organization. If you'd like to get in touch or see a demo of our product, let us know here.
No matter the platform you choose, make these surveys timely, easy to find, understand, and participate in. And remember: we were given two ears and one mouth for a reason. Let's use them accordingly.