Your employees are your strategic advantage. Learn how to engage, motivate, and retain them with the Employee Success Playbook.
Introduction to Employee Success
The days of annual performance reviews, top-down decision making, and paycheck-driven employee engagement strategies are coming to an end. With the gig economy, robust job search engines, remote work, and a steady decline in unemployment rates, U.S. employers have been forced to rethink how they retain talent.
To make things more complicated, employers have to find ways to attract and engage a multigenerational workforce, including a growing number of Millennial employees, whose expectations drastically differ from their Gen X and Boomer peers. With the pressure to retain talent mounting, employers must revise how they motivate, develop, and engage their workforce. In this playbook, we'll identify strategies to create better employee experiences, build deeper internal connections, and foster long-term employee success.
Organizations have nowhere to hide. They have to adapt to the needs of the modern workforce, or they will find themselves struggling to attract and keep great employees and therefore customers.

GALLUP REPORT: THE STATE OF THE AMERICAN WORKFORCE
Who Are Your Successful Employees?
When you think about your successful employees, what qualities come to mind? Apart from producing outstanding results, they are probably great self-promoters, natural networkers, and don't hesitate to speak up when they have ideas and suggestions. It's easy to recognize those people who are consistently taking credit for good work, while decidedly less simple to notice the altruistic team players who are satisfied without getting recognition for their individual contributions.
A study by the Harvard Business Review found that 42 percent of employees in corporate high potential programs should not have been included in those programs based on an assessment of their skills, strategic vision, and ability to motivate others. With talent harder than ever to find and retain, and our own implicit bias working against us, identifying undervalued employees and matching them with the resources and responsibilities to help them grow is more important than ever. By identifying predictive success criteria like technical expertise, resourcefulness, and ability to lead teams, organizations can avoid putting ill- equipped contributors into senior roles, and give undervalued employees the tools and connections they need to do their best work.
Download the Employee Success Playbook
Engagement and Employee Success
Most employees can be categorized in three ways:
Employees that are actively engaged.

Employees that are actively disengaged (people that quit and leave, or worse, quit and stay).

Employees that are neither actively engaged nor actively disengaged, floating through their days with neither passion nor motivation to do their best work.
Gallup's State of the American Workforce report found that only 33 percent of employees feel engaged at work. 51 percent of employees fall into the neither engaged nor disengaged group, with just 16 percent actively disengaging from their work. The report also found that engaged employees are more present and productive; they are more aligned with customers; and they are more observant of processes, standards, and systems. Engaged employees were also 21 percent more pro table than their disengaged peers. Building engagement within your organization is a critical step toward helping more employees achieve success.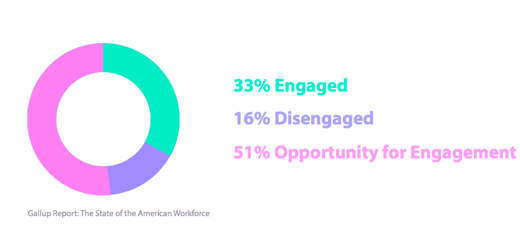 Critical Conditions for Employee Success
Are your successful employees somehow innately better than their counterparts? Smarter? More dedicated? Harder workers? Probably not. We tend to look at employee success in terms of output, but instead, consider the inputs and conditions that enable workers to succeed. Things from management to work environment to development opportunities could be the difference between average, mildly engaged employees and highly engaged, consistent performers. We've identified 10 conditions to create an environment where employees can be successful, and recommendations to implement these conditions in your employee success program. When these factors are met, employees will not only be more motivated, they'll also be more aligned with your organization's mission, culture, and long-term goals.
Drive Culture Intentionally During the Hiring Process (and Beyond)
Employee success starts before an employee ever joins your organization. By intentionally deciding what type of organizational culture you want to create, you can align your hiring decisions with your corporate culture. Do you value performance, even if it creates a highly competitive environment? Do you value diversity in your leadership? What are your organizational values and how should employees exemplify them at work? By making these decisions early, and communicating expectations to hiring managers, you're more likely to be able to attract employees that will be a t for their roles, and for the organization.
Getting Started
Culture and Employee Success
Commit to intentionally driving culture and reinforcing values during all stages of the employee lifecycle. The culture you create internally will ultimately determine your customer experience.
Clearly communicate your values to all employees, and highlight examples of employees exemplifying those values.

Keep your mission statement, cultural values, and exemplars of culture in a frequently visited, easy to access digital space.

Assess potential employees for cultural fit, and highlight which traits or values align with your organization's culture. Reference this information on an ongoing basis.

Assign executive sponsors and internal culture champions. Employees should feel empowered to drive the development of company culture from the ground up.
Employees who fit well with their organization, coworkers, and supervisor had greater job satisfaction, were more likely to remain with their organization, and showed superior job performance.

Harvard Business Review, Recruiting for Cultural Fit
Decrease Barriers to Resources
How much time will your best employees dedicate to finding the tools or information they need? Chances are, your best performers are resourceful, and know how to access the tools, information, and documents they need. If successful employees aren't sure where to find something, they'll ask, whereas your average/ unengaged employees might wait to be given instructions to proceed. When employees are given the means to access resources, whether that means people, content, software, or information, employees will be more likely to use what's already available, and organizations will get more value from their existing resources.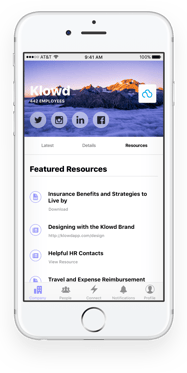 Getting Started
Resourcefulness and Employee Success
Follow these recommendations for excuse-proof resourcefulness to foster employee success.
1. Create an internal database of all employees with their skills, personalities, and contact information to make it simple to get in touch with people within your organization.
2.
Centralize access to internal marketing, sales, customer success, HR, and other resources in a frequently visited location. Link to documents in other platforms when necessary, but make fi
nding information user-friendly and intuitive.
3. Customize access to resources, making sure the right employees have access to the right people and the information to get work done.
Build Meaningful Connections and Support Open Communication
How often do your best performers communicate with people in their own departments? What about across departments? Successful employees are almost always effective communicators and use the combination of face-to-face, phone, email, and messaging to connect with leaders and employees appropriately. They can easily identify who can help them solve problems, and they know how to interact with that person most effectively based on social cues and past interactions. If you make it easy to communicate within teams and organizations, you can start to breakdown the communication barriers that keep teams from achieving a higher level of success.
GETTING STARTED
Communication and Employee Success
Level the communications playing field by including names, interests, locations, and other employee data in a simple location, accessible via desktop and mobile. Allow employees to connect on multiple channels, allowing for frequent interactions between individuals on preferred channels.
1. Create employee profiles where individuals or groups can easily connect with others via phone, message, or real-time chat.
2. Include data like location, skills, department, and personality insights in individualized profiles.
3. Include recent photos in an employee communication profile to help build recognition for in-person interactions.
4. Keep contact information current and updated as employees move within the organization.
Download the Employee Success Playbook
Just 21 percent of U.S. workers strongly agree that their performance is managed in a way that motivates them to do outstanding work, according to Gallup. If employees believe their performance is not a predictor of internal growth or recognition, there will be few reasons for them to do great work. Managers have a large stake in this problem. Effective managers will be able to recognize and reward great performance outside the confines of annual reviews, and provide ongoing, proactive coaching to help employees reach their potential. With regular conversations around growth and development, managers will be better able to match employees with the projects and roles that align with an employee's strengths and passions.
Getting Started
Management's Role in Employee Success
Effective managers know the right type of recognition and incentives to inspire and motivate their teams. Underperforming managers might benefit from resources that encourage open, regular recognition and help them better understand their employees' strengths and motivation.
1. Encourage managers to send regular communications to their teams, recognizing the contributions of individual employees.
2. Keep track of talents and skills with centralized, easily accessible employee resumes. Allow employees to add achievements and certifications to their internal skill database.
3. Pair employees with mentors within the organization based on current or desired skills and interests.
4. When possible, equip managers with automated communication options to decrease barriers to connecting with their employees.
Create Open Channels to Give and Receive Feedback
Frequent and relevant feedback is an important part of employee growth. This is especially true for Millennial workers, who crave feedback but don't always know how to ask for it. According to Gallup, only 19 percent of U.S. Millennials say they receive routine feedback at work, and only 17 percent say the feedback they receive is meaningful. Any overburdened manager can tell you how difficult it can be to provide insightful feedback to dozens of direct reports, but feedback remains a top concern among many employees looking to continue to develop and grow professionally. Managers may end up giving feedback to those employees who take credit for work or lead projects, but what about the rest of the team that may have played a part in the success or failure of a project?

GETTING STARTED
Feedback's Role in Employee Success
Feedback works best when it is specific, frequent, and actionable. That doesn't mean all feedback needs to be positive, but it does have to be delivered in a way that will help the employee improve, and not shy away from trying to innovate in the future.
1. Try to connect with employees and o er one piece of feedback everyday. This could be delivered via text, email, phone, chat, or in person.
2. Stay on top of projects by meeting with employees at least weekly in person or via phone.
3. Create goals aligned with organization's success. Provide feedback on employee's progress toward achieving their individual and team goals.
4. When possible, o er feedback to teams on project results, and highlight contributions of individual team members.
Understand and Utilize Untapped Skillsets
According to Deloitte's 2016 Millennial survey, only 28 percent of Millennials feel that their current organizations are making full use of the skills they currently have to o er. More experienced workers are also familiar with the feelings of boredom and stagnation that come with knowing their skills, knowledge, and talents are being underutilized. HRM Canada recently reported that 85 percent of all employees feel they could be more efficient at work, but because of skill underutilization, do not live up to their full potential. Employers can do more to leverage the untapped potential within their organization by better understanding the available skillsets and knowledge that exists within their organization. Many managers may not know about employees' outside interests, side projects, community involvement, and education that may be relevant to their growth within the organization.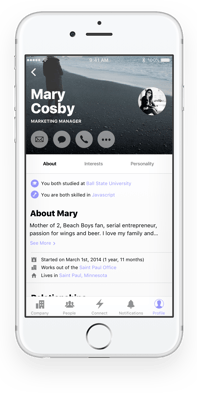 GETTING STARTED
Untapped Potential and Employee Success
Utilizing people analytics and allowing employees to share their skills are common ways to solve the challenge of underutilization. Ensure that managers discuss career progression and skill development to align interests with future projects and roles within the organization.
1. Have a centralized location where employees can document skills, experience, and available jobs or projects.
2. Encourage employees to continue to develop in areas where they're passionate, and report back on skills and certi cations earned.
3. Assign projects and roles based on skills, interests, and availability of internal resources.
Align Personal Values with Corporate Mission
Employees need to understand how the work they do impacts their organization and their community. Similarly, employers should do their part to nurture the people and the communities that have enabled their success. There are clear advantages for employers in creating purpose-driven work. 73 percent of employees who say they work at a "purpose-driven" company are engaged, compared to just 23 percent of those who don't, according to Deloitte's "The Purpose-Driven Professional" report. To create this sense of purpose, employees need to clearly communicate what's important to them, and leadership needs to see value in corporate social responsibility programs.
Getting Started
Purpose-Driven Work and Employee Success
Recent research by Robert Half suggests 61 percent of U.S. workers believe that taking part in philanthropic activities outside of work enhances their overall wellness, allowing them to be more e ective and productive on the job. Understanding where your organization can make the biggest impact will help you create a social impact strategy that creates long-term engagement.
1. Survey teams to determine the type of volunteer/pro bono projects that are most meaningful to them.
2. Make it easy to get involved with meaningful projects, and create clear expectations for how your organization will support social impact initiatives.
3. Measure the impact of your combined social initiatives. Share the impact your e orts have made in your community and how these results align with your corporate values.
Create Opportunities for Development and Growth
According to Gallup, 87 percent of Millennials and more than 60 percent of Gen X and Baby Boomers say professional or career growth and development opportunities are very important when considering job opportunities. Gallup found that "opportunities to learn and grow" were among the top factors in retaining Millennial talent, and were valued above wages for most young workers. Organizations will need to continue to provide coaching, development opportunities, and room for advancement in order to keep their young workers engaged in their current roles, or risk losing them to companies who are able to give them more responsibility and a clear path to advancement.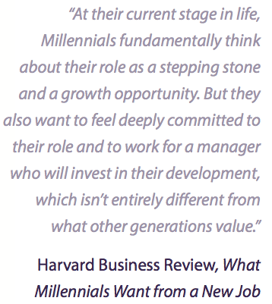 GETTING STARTED
Career Development and Employee Success


Managers need to plan to consistently invest in onboarding, training, education, and mentorship options to keep their employees interested and motivated. Leaders should o er individualized performance metrics and development plans to help employees understand what it takes to continue to grow within the organization, and connect employees with the people and networks internally and externally that could support them in their career development.
1. Understand and record the goals of each employee individually. Align development opportunities with the goals of the employee.
2. Create and track progress toward success metrics. Review development progress on an ongoing basis.
3. Track training and certi cations in a centralized database to help employees promote their new skills internally.
Design an Environment that Works
Employers have a responsibility to create physical work environments that motivate employees to perform. Research shows that workspace can a ect employees' productivity, concentration, and engagement in their work. Workspace can create more opportunities for face-to-face interactions, which could lead to new ideas, improved performance, and provide cultural bene ts for your employees.
Getting Started
Workspace and Employee Success
Successful employees are both connected to their coworkers, and have the ability to nd quiet spaces to concentrate on their work.
1. Poll employees on what's most important to them during the workday. Ask questions around physical workspace preferences, as well as telework options.
2. Ensure your physical workspaces include places to collaborate, concentrate, relax, and connect with peers.
3. Don't forget your remote employees. Create digital channels for workers to connect and share ideas, and encourage regular participation with reminders and prompts to create better connections.
Implement the Right Technology
Think about the last time you ran into a technology problem at work. How did it feel to not have access to the right tools to get your work done, or to be hindered by the very technology that was supposed to make work possible? It probably made you question technology's purpose, and whether it was worth keeping. Technology can play a huge role in enabling communication, automating work, and improving productivity. Similarly, when technology works against you, it can cause frustration, stagnation, and cost your organization thousands in lost productivity. When considering new technology purchases, organizations owe it to their employees to do their research, and implement platforms and tools that will enable people to do their best work. The right technology will serve as an enhancement to current work ows, enabling more engagement and better productivity.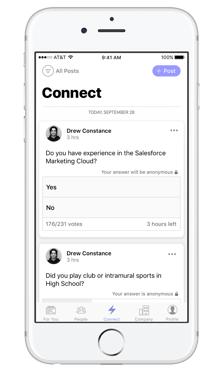 Getting Started
Technology's Role in Employee Success
From onboarding, to development, to promotion, and beyond, technology plays a critical role in helping employees get the resources and information they need to reach their potential. Employers should focus their attention on technology that enhances the employee experience by motivating and supporting people throughout their employment lifecycle.
1. Evaluate current technology gaps and overlaps by surveying employees on their technology needs.
2. Invest in technology that creates opportunities for value added touch points between employees and managers.
3. Enable your remote workforce with technology that improves connectivity with peers and teams.
4. Make it mobile. Over 90 percent of your employees likely have smartphones and know how to use them. Empower them with mobile capabilities to connect, be heard, and nd new opportunities in the company.
Executing your Employee Success Strategy
Employees who are successful and productive are more likely to be engaged, motivated, and loyal to their organization. When these ten conditions are met, more employees will have access to the tools, resources, programs, and people that will enable their success. Your most successful employees may be naturally inclined to empower themselves and nd a way to demand that these conditions be met. But a majority of your employees could use more help. By providing a means to access the people, information, and technology that your top performers already use, you'll help more employees achieve success and produce similar results. Ultimately, it falls on leadership to determine how to empower people and teams and create the pathways to success for their employees.